MEP Supports With the Hilti Wire hanging System
Know how Hilti's innovative installation solutions in wire hanging have significantly contributed in the area of MEP & HVAC Building Services design.

Introduction
With the increasingly significant role MEP (or building) services play in providing comfort, functionality, efficiency, and safety to our built environment, fastening of these systems to structural members also has become increasingly important. In most situations, these building services are fastened after the main structural members – beams, columns, and slabs – are erected to eliminate irregularities with positioning and alignment. Building Services (or MEP) design and engineers play a vital role in creating the infrastructure that allows a building to perform with efficiency and provides comfort, efficiency, functionality, and safety to its inhabitants.
Present Scenario & Associated Challenges
Most of these services – particularly heavy HVAC ducts, electrical conduits, as well as plumbing and firefighting pipes – either are placed on a horizontal support, in the case of medium-duty loads or are suspended from the ceiling, in the case of light-duty loads, with supports positioned at 2-3 meter spans. For the former, steel channel sections are fastened with baseplates or clamps, if the existing beam or column is concrete or steel, respectively. For the latter, internally-threaded, drop-in/bullet anchors are drilled into the concrete member and threaded rods then inserted. Alternatively, steel angle/channel (ISA / ISMC) sections are welded together and then connected to the primary structural members using concrete stud anchors.
An additional method exists for supporting lighter loads up to the 300kg limit, such as HVAC ducts, cable trays, lighting panels, and even as intermediary supports for pipes. Bundled steel wires are connected to the internally-threaded concrete drop-in anchors with a threaded bolt and hook, forming a loop around the duct, pipe, or tray.
While the current services support system is adequate, three main challenges arise with these types of MEP services support installation:
1.    A complex and time-consuming process: the connections use either slotted or welded channels and in the case of welded sections, there is material wastage and a requirement of skilled welders.
2.    Yields low productivity: Marking, aligning, and anchoring these locations is a very tedious task and, if there is any misalignment, it becomes very difficult to alter the positioning.
Lacks a system approval: Lacking a combined approach results in no approval. In many cases, the anchors used to fasten the welded frames into the concrete are not approved for cracked concrete. Cracks exist inherently in reinforced concrete due to thermal shrinkage, creep, and other factors. In addition, the frame itself is more of an ad-hoc solution and not approved for performance in fire and seismic conditions. Having two separate approvals for the two main components – the anchor and the supports – does not equate to a combined system approval.
Watch this video to see how Hilti HWS installation is a major contribution in the area of MEP & HVAC Building Services design.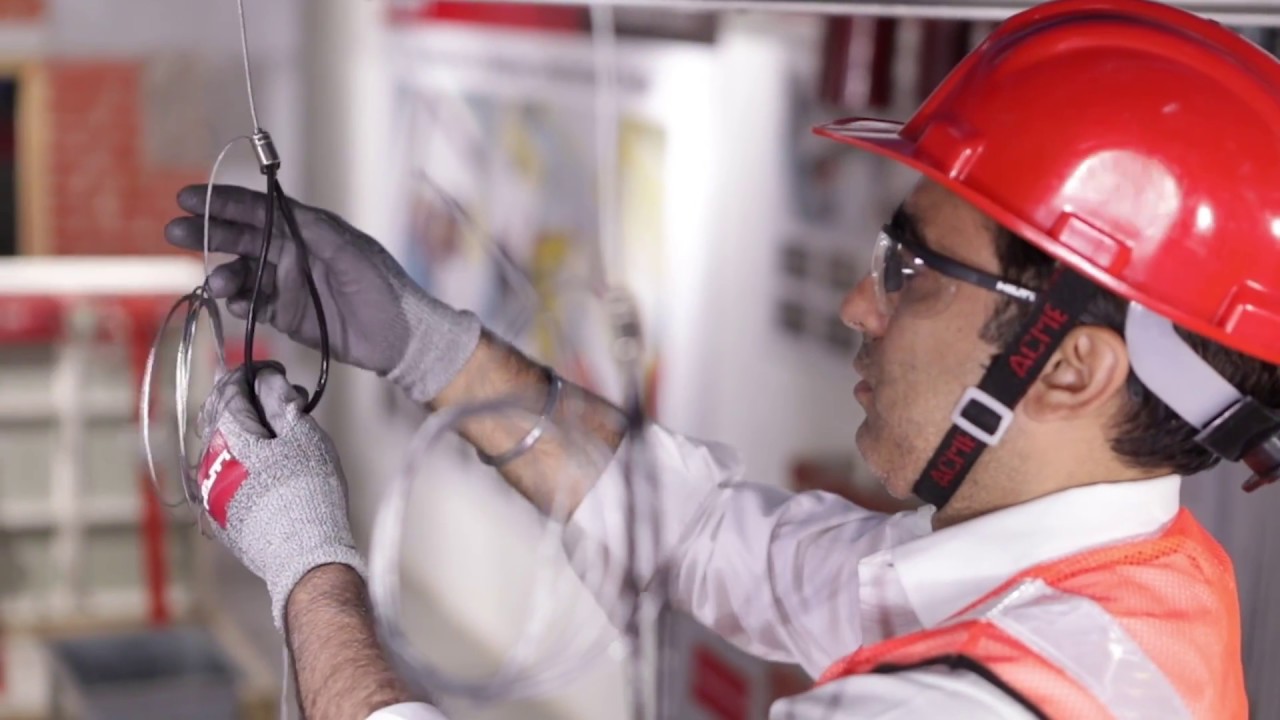 Need of a system-approved solution
It must be noted that in adverse conditions of earthquake and fire, failure of secondary connections such as MEP fastenings is more likely than primary connections, which is why ad-hoc solutions such as the ones described above often cause a loss of life when they collapse. To support lighter ceiling-suspended loads, an ideal support will contain:
(a) an anchor that performs successfully in both seismic conditions (these cause an increase in concrete crack widths), as well as in fire conditions;
(b) an engineered frame or wire-hanging support capable of withstanding fire hazards and seismic movement;
(c) an approved system consisting of both (a) and (b).
Overcoming the challenges with the complete and approved HWS system
With increasing productivity and timely delivery of projects without compromising the inhabitants' safety becoming a key considering in the construction industry, Hilti proposes a wire hanging solution for MEP consultants and designers that combines a complete solution approved by authorized and independent third-party assessors, an aesthetically pleasing and lightweight system supplied in ready-to-use kits that allow rapid installation, while leveraging the support of our technical and field teams.

The Hilti Wire Hanging System comprises of the HUS3-I anchor, a 1.5-5mm thick wire-loop that includes a stud and an i-bolt, a key-less Hilti blocker for locking the wire in position, snap hooks, protective sleeves, corner protectors for HVAC ducts, and the Hilti SIW 22A tool for rapid installation and removal of the anchor.
The system itself is designed for supporting – among others – HVAC ducts, cable trays, lighting fixtures, and intermediate supports for mechanical pipes up to a load of 300 kg per support; this load rating includes a safety factor of 5. Additionally, the flexibility of the Hilti Wire Hanging System (HWS) allows ceiling suspended services to be installed up to an angle of 60° from the vertical.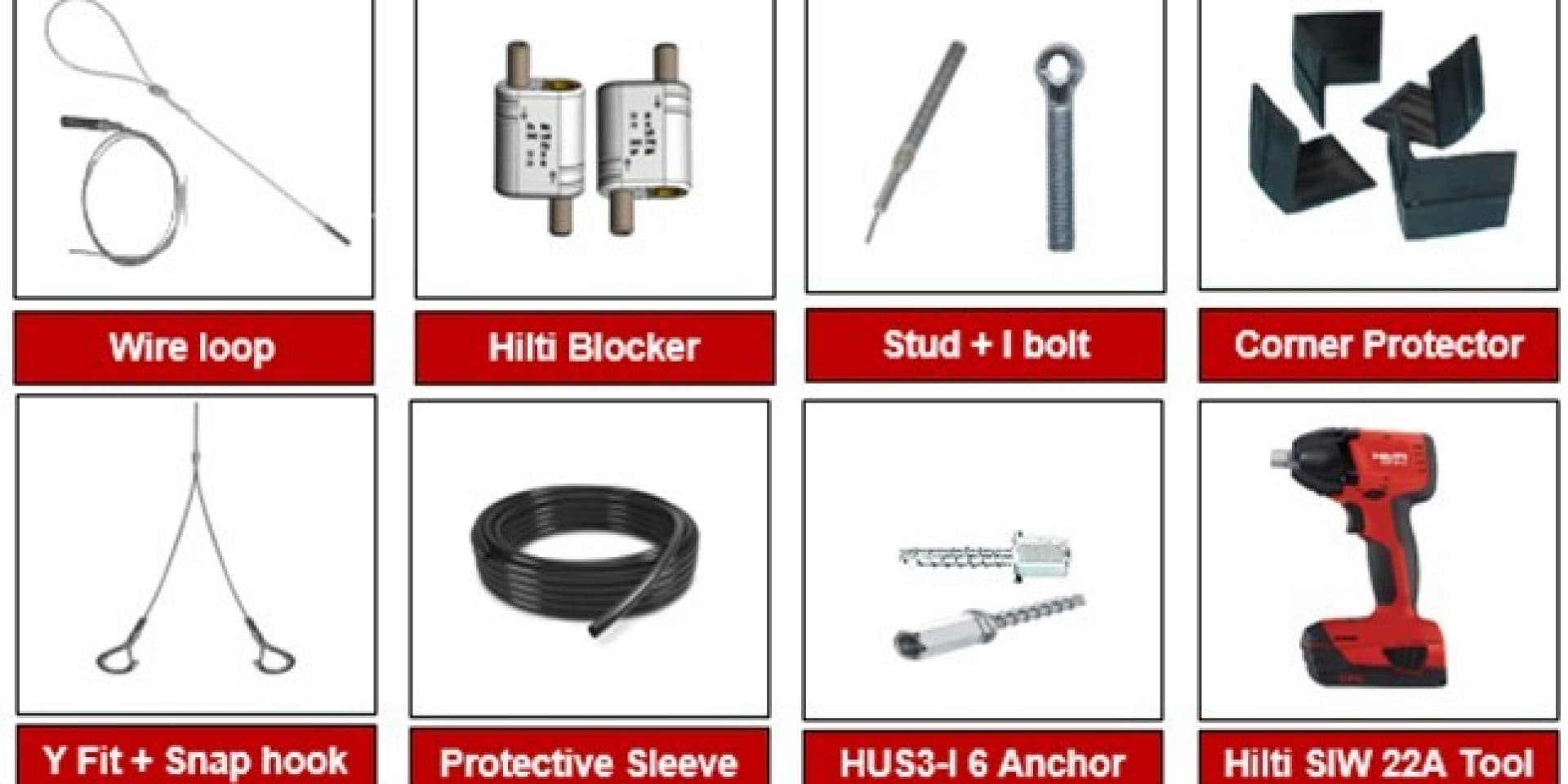 Providing a system approval is not be possible without the use of an ETA-approved anchor: the HUS3-I screw anchor has approvals for cracked concrete, for Seismic C1 category, and for use in hollow-core slabs. The anchor can be designed with Hilti's Profis Anchor software, which enables MEP designers and engineers to generate a report. A key advantage of this anchor is its reusability: the HUS3 anchor series can be reused up to three times, allowing misalignments to be fixed rapidly by unscrewing the anchor using the same SIW 22A tool. When combined, the anchor, wire loop, and the rest of the accessories carry TÜV and UL approvals in addition to following SMACNA guidelines. Thus, an ad-hoc wire hanging arrangement becomes a complete solution with an approved system.
Complete Systems with Complete Services
Hilti is committed to providing innovative and rapid installation solutions to the MEP & HVAC services industry with a service par excellence. Our technical teams are always available to assist architects and engineers with preparing specification texts and Bill of Quantities, with designing the anchor and support positioning as dictated by the approved load limits, and our site teams will help provide on-site testing support as well as installation site training to contractors and installers.