Façade Design Center
Solutions for all façade types
Whether you are working on a project with a window wall or curtain wall façade, designing the edge of slab condition is complex.
Having a strong understanding of the requirements of these applications can help eliminate issues later in design, construction or post-construction phases. Properly addressing major design needs can help the design process move quickly and more smoothly. 
Façade Attachment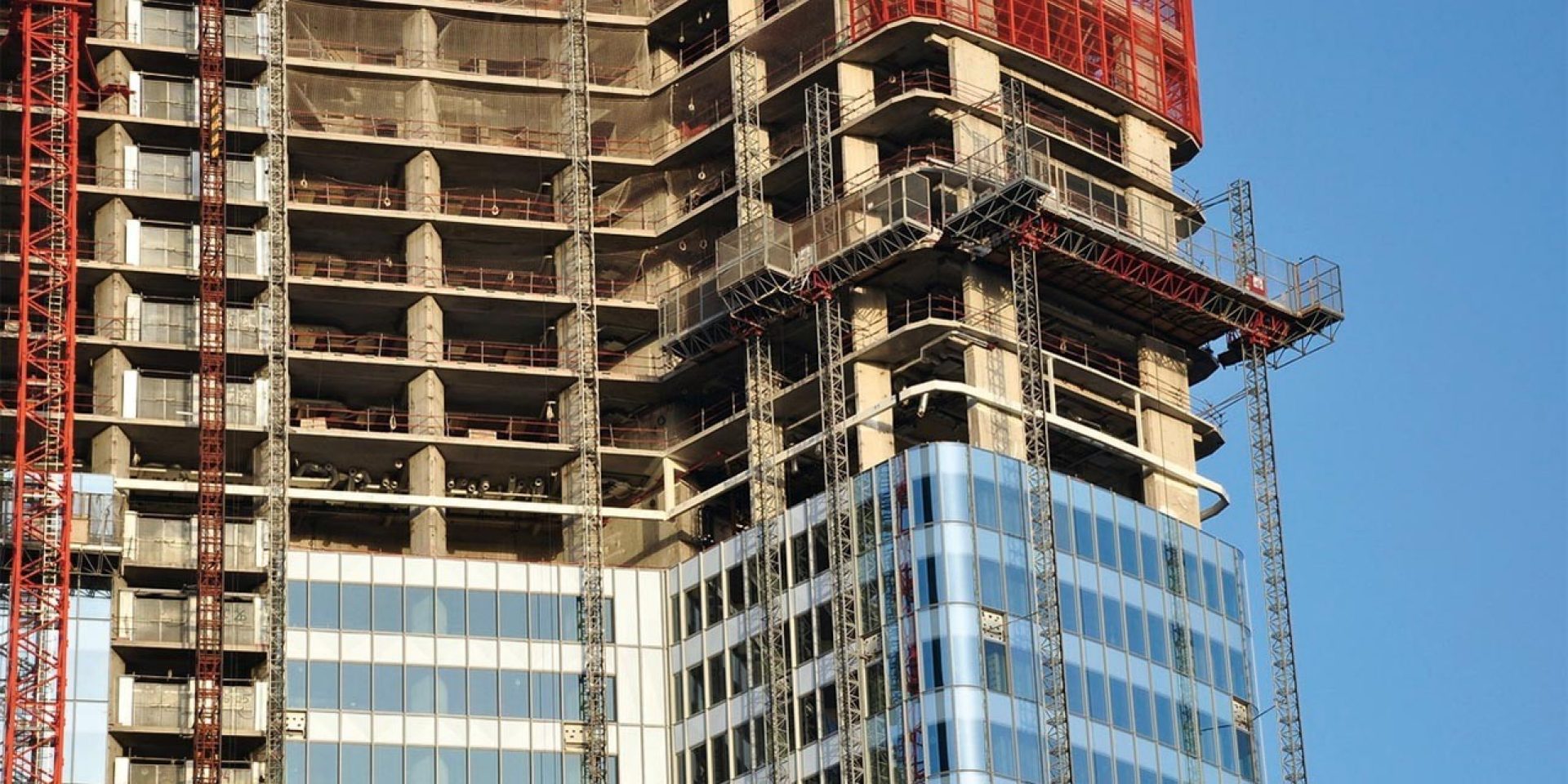 Cast-in anchor channels for façade attachment
Attaching façade elements such as glass and sun shades to the steel structural components of a building is a unique application requiring specialized anchoring products. The fastening aspect of fascia design can pose a variety of challenges that add to the complexities of the design, installation and post-construction phases of the build.
Hilti offers anchors for mechanical and electrical applications — from screw anchors to expansion anchors to drop-in anchors — to cover the spectrum of design needs that are easy to install and IBC code compliant. If the building plans call for cast-in-place anchors, Hilti has a complete line of color-coded cast-in anchors for both wood form and metal deck applications.
Curtain Wall and Edge of Slab Firestopping
That narrow gap between your floor slab and façade is bigger than it looks and adds up to create open space for gas, smoke and flames to rise from floor to floor. Almost all international building codes now recognize how critical perimeter fire barriers are to the overall building safety plan. Ambitious designs and strict schedules mean that perimeter fire containment must be quick and easy to install correctly. Acoustic, thermal and movement requirements cannot be ignored either. 
With these industry trends in mind, we have developed inventive fire compartmentation solutions that not only help protect lives, but can also help solve other engineering, specification and installation challenges as well. Pre-formed firestop barriers and versatile spray sealants are at the forefront of this new generation.
Hilti's fire barrier systems are available for single spandrel, zero spandrel, and steel back pan curtain wall configurations. Hilti's vast library of firestop solutions are unrivaled in the industry, ranging from traditional spandrel designs, 100% vision glass or EIFS.
Hilti was the first manufacturer with a tested perimeter fire barrier system for full vision glass with Intertek listing HI/BPF 120-11.  Previous full vision glass designs were highly dependent on Authority Having Jurisdiction (AHJ) approval as there was no provision in the code to test these systems.  With our new systems, architects and owners now have assurance that their full vision glass design is secured and backed by a tested system.
Back pan or shadow box systems offer architects, fabricators, and facade installers numerous benefits.  These systems are used commonly on unitized and stick built curtain wall systems. Hilti's Intertek system HI/BPF 120-12 is the first back pan system that does not require a stiffener.  This translates into huge savings for the contractors.
Innovative firestop solutions and an extensive library of firestop tested systems are available to help ensure fire protection can be incorporated into a project's design and successfully installed on site for curtain wall and edge of slab applications.
Pre-formed Solutions for Edge of Slab Firestopping
CFS-EOS QuickSeal is a preformed solution for edge of slab applications that is easy to install, without the need for mineral wool and spray sealants. It can be installed in a wide range of temperature and weather conditions without affecting its performance, with no equipment needed nor mess to clean up. CFS-EOS is fast and easy to inspect and may not be subject to the same destructive testing as may be required for other third-party inspections.
Shop now
The Ultimate Fast Cure Sealant
CFS-S SIL SL firestop silicone sealant is a fast-curing and highly elastic firestop sealant for curtain wall or edge-of-slab applications. This silicone-based spray is water-resistant, your installation productivity is not weather-dependent. The movement capabilities of CFS-S SIL SL meet leading industry standards, and its water-resistance helps to reduce moisture damage to the joint. 
Shop now
Firestop Spray
Our traditional, water-based firestop sealant spray CFS-SP WB is a versatile spray for curtain wall or edge-of-slab applications where exposure to water and the elements is not anticipated during the lifecycle of the building. As with other Hilti spray sealants, CFS-SP WB has high-performance movement capabilities that meet leading industry test standards.
Shop now
Ventilated Façade
Drained and Back-Ventilated (DBV) Rainscreen Façade
Hilti can support you every step of the way, from planning to the selection and installation of your rainscreen façade.