Rotating Lasers
Find out how Hilti rotating laser level machines are designed to be robust and easy to use for long-distance levelling, aligning, squaring and slope tasks with one man operation
Find out how Hilti rotating laser level machines are designed to be robust and easy to use for long-distance levelling, aligning, squaring and slope tasks with one man operation
Back to products ()
Products ()
ALIGNMENT AND LEVELING
Hilti's rugged and robust lasers take your productivity to the next level
Whether you are working indoors or outside, on horizontal, vertical or dual-grade slope applications, we have robust lasers to help you get the job done.
Whatever your application, we have a solution for you
Exterior layout
Whether you are looking to lay out horizontal and vertical lines, set out grading for single and dual-grade slopes or install façades without a drifting beam, we've got an exterior rotating laser level to help you get the job done.
Interior layout
Especially designed for interior applications, our range of interior laser levels feature a green laser beam that delivers four times greater visibility than red beams.
Outstanding visibility and performance
The latest green beam laser technology delivers a difference you'll see instantly.
The brilliant green laser beam of the PM 40-MG Multi-line laser is 4 times more visible to the human eye, sharper and finer than conventional red laser types and delivers significantly better results with greater convenience when working over long distances or in bright environments.
The sturdy tripod keeps the PM 40-MG Multi-line laser steady under real jobsite conditions such as on uneven and dusty floors, even where there are bumps and holes. Thanks to its adjustable, rubber-covered feet, the tripod compensates for rough surfaces or other obstacles and helps avoid damaging sensitive surfaces.
TOUGH ON THE OUTSIDE, SMART ON THE INSIDE
PR 2-HS A12 and PR 30-HVS A12 rotating lasers with enhanced drop protection
The PR 2-HS A12 and PR 30-HVS A12 feature a patented cast that keeps sensitive levelling components intact and a internal damping system reduces vibration dramatically.
This ensures they provide accurat and the best-in-class levelling time you've come to expect from Hilti.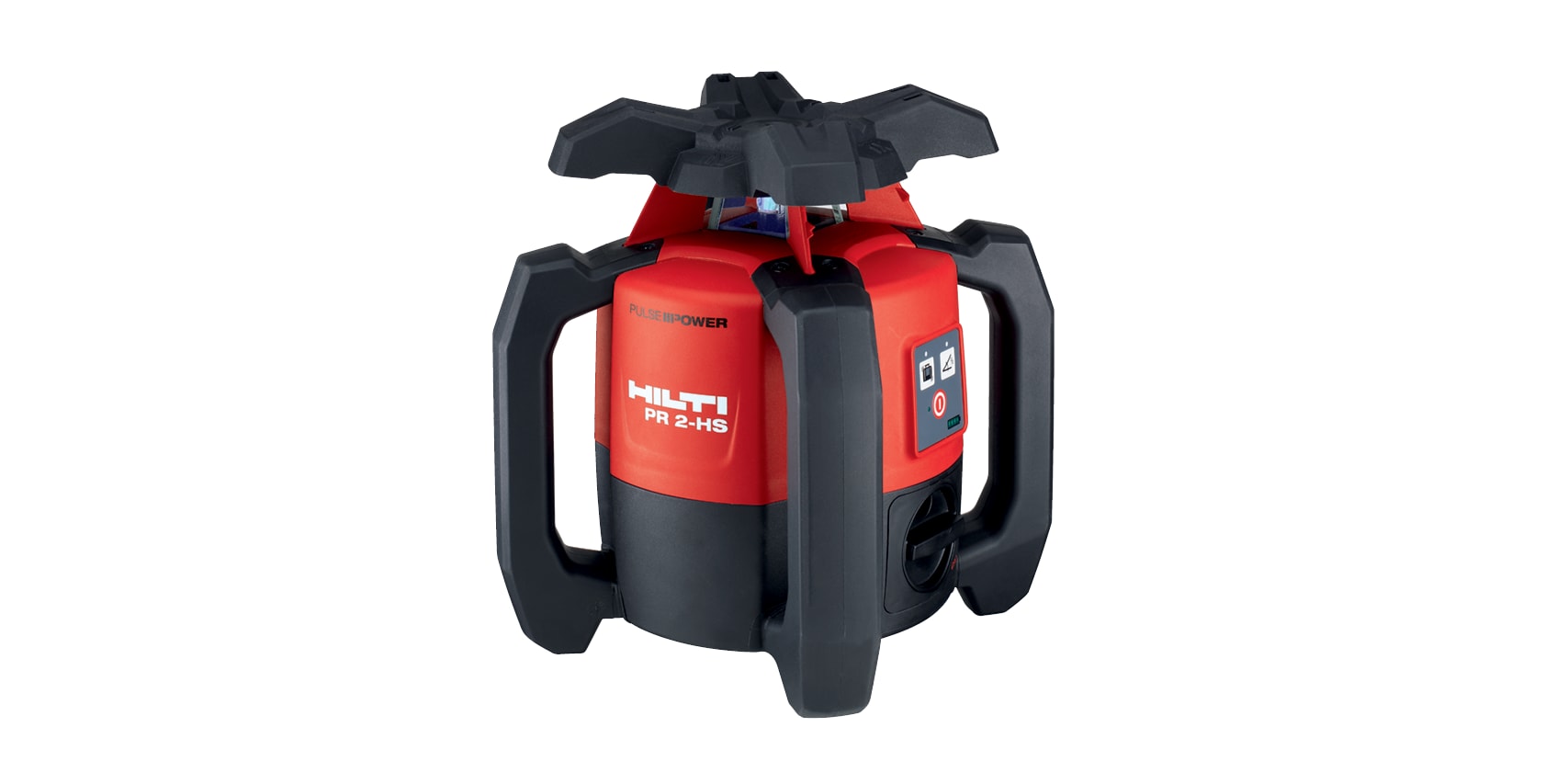 WHAT MAKES OUR LASER LEVELS SO RELIABLE?
Drop-resistant technology
It's no secret that there's a risk lasers can be dropped or knocked off a tripod. Accidents happen. That's why our rotating lasers are designed to be as resistant to drops and falls as possible, so that you can focus on perfecting your site gradings, concrete pours, foundation layouts and suspended ceiling installations.
External technology: the fibre-plastic reinforced housing and the four shock-absorbing handles buffer the initial impact and reduce the stress on the tool's internal components. The newly developed safety head adds additional protection in case the tool falls over.
Internal technology: energy-absorbing material and patented mineral resin cast effectively protect the tool's core. Our rotating lasers are able to withstand falls from a tripod (1.5 m) and free falls on concrete (1 m) without losing precision. The digital level will be just as precise after the accidental drop as it was before. If you want to see this in action, we'd be happy to show you a demo.
Batteries that work as hard as you do
Advanced cordless technology
Drive your business forward with the latest Lithium-ion battery technology from Hilti. Our batteries are sealed against moisture and dust, while the glass-fiber-reinforced housing makes these powerful batteries four times more impact-resistant than ABS plastic alternatives.
HELPING YOU WITH YOUR DAILY BUSINESS
Services to keep you performing
Unforeseen or hidden factors like lost or damaged tools and repair costs can lead to serious productivity issues on the jobsite.
Our service offerings help you avoid these additional costs and keep you working.