TECH-ING IT TO THE NEXT LEVEL
Upping construction's productivity ante via digital transformation.

If tools could talk, they'd be pretty frank now. As the construction worker's best friend, they would probably go, "Hey buddy, I'll always be there for you - but I can't speak for others!" With production lines being reconfigured for physical distancing and global supply chains disrupted, their words could carry a prophetic ring in the coming days. The message is clear: What got us here, may not get us there. NEW NORMAL, NEW RULES. 
Crises normally don't come with a silver lining, but the construction sector is lucky that the current one has brought an unexpected opportunity. Another shot at getting the productivity game right. The sector has been skimming the top for the longest time in this area, but it can't afford to anymore. Even sectors regarded as sluggish adopters of digital and tech (such as Logistics and Supply) have been busy reinventing themselves. Digitization has been optimizing 'Time' in Logistics by 70% and reducing 'Inventory' in Supply by 20%. It also has the power to unlock value worth upto $30 billion by 2025 in these sectors, according to research. Can success stories like these - especially in the context of a crisis – inspire construction to shake off its stupor and get its productivity act together? One certainly hopes so. And when it does, it'll have an able ally in, guess who, talking tools. Yes, thanks to new digital technologies like IoT (Internet of things), tools can now share their feelings with us. We need to start listening. 
"In a time of labour shortage and lean resources, tools that can talk to us and share critical information in 'real-time', such as the load they are working at… who installed them…  under what conditions… and when they are due for the next repair… can make a huge difference to productivity by reducing downtime significantly."
JAYANT KUMAR, General Manager- Hilti India
WHAT STANDS IN THE WAY OF CONSTRUCTION'S DIGITIZATION?
Not just talking tools, an entire tech and digital army needs to lead construction's productivity revolution. And they have their job cut out.
For one thing, construction projects tend to work in fragmented silos with teams comfortably settled in legacy methods. These 'methods' also keep changing shape from project to project. The combination of fragmentation and lack of replicable methods makes standardizing and implementing organization-wide tech and digital shifts a challenging task. It also explains the lack of an industry-wide standard so far.
A lot of companies also do not have the right tech systems and trained staff in place. 
There are mental blocks to overcome as well. Hi-tech digital systems and processes are typically perceived as 'office gadgets' or 'indoor technologies' and considered too sophisticated or fragile for outdoor 'action-arenas' like a jobsite. That modern tools come with heavy-duty design and built to specifically take care of this aspect, is one of the many areas where awareness and familiarity needs to be happen.   
Let's also not forget that the construction sector has a history of being sceptical of new habits and disruptions, especially those of a digital kind.


INDIA'S DIGITAL RISE COULD USHER CONSTRUCTION'S FINEST HOUR
With over half a billion internet subscribers and faster digitisation activities than several mature and emerging world economies, India is well on its way to becoming a digitally advanced nation. 

WHAT'S DRIVING INDIA'S DIGITAL & TECH REVOLUTION?
Dropping internet subscription costs
Ever-expanding network penetration
Agile product & service innovation
Growing engagement-time online  
Active state support & govt initiatives 
Digital transformation is being experienced across industries, not just a few sectors. This includes construction and realty, as well as 'allied sectors' like Logistics and Supply. According to a McKinsey report, digitization in these sectors could add anywhere between $10 billion to $150 billion to the economy. Even factoring for the 'revised reality' of the NEW NORMAL, that is a target worth going for. 
CAN CONSTRUCTION LIFT THE BAR?
While it's true that construction (much like realty and transportation) has traditionally been regarded a 'Tech Laggard' sector (as opposed to 'Tech Leaders' like say ICT : Information-Communication-Technology, Education and Healthcare), there is good news for the construction.
ONE : Despite inter-sectoral inequalities, 'Digital Leaders' can be found in all sectors of the economy and yes, that includes construction as well. For construction companies who are 'tuning in late' so to speak, this means that there are helpful success templates and inspiring role models to follow.
TWO : Adoption of digital and technology typically delivers the maximum impact in the early stages of the adoption curve (according to the 'Law of Increasing Returns'), which is where construction is currently at.
Of course, unlocking value will require both strong-willed commitments as well as big shifts in attitude. 
MINING VALUE VIA DIGITAL & TECH 
Prioritize Tech + Digital in business strategy
Invest in Capacity Building + Training
Stay Agile + Responsive
Adopt Test + Learn mindset
Take smart risks 
TRENDS RESHAPING CONSTRUCTION
Through Building Information Modelling (BIM) - an intelligent 3D model based process - architects, consultants, and contractors align closely from Day Zero and get valuable insights & tools to plan, design, construct and manage buildings and infrastructure more efficiently
Cloud based collaboration makes reliable & real-time information possible, which is the key to quick and effective decision-making. It also results in vastly improved management of assets and employees.  
Autonomous Robots are already disrupting construction in a big way (despite their niche adoption), especially in functions like survey and demolition. In a labour intensive industry, this can spell a big difference in terms of worker safety, free-ing up hands and cost-savings. Their high levels of efficiency is particularly valuable during times of labour shortage since it can help maintain, and even increase, productivity.  
VR (Virtual Reality) brings once-unthinkable visual clarity to jobsites by 'immersing' the viewer inside a virtual environment. Workers no longer have to rely on guesswork and trail-&-error methods (a leading cause of re-work and cost over-runs) which – along with remote supervision, better collaboration and easy scaling - is turning out to be a game-changer especially for remote and hard-to-reach zones.
Internet of Things (IoT) lets us create a truly 'connected jobsite' by digitally joining the dots of tools, equipment, inventory, teams and processes. This is done by equipping  machinery with sensors, software and other devices. By capturing and distributing tool and work related information in real time, IoT enables machine-to-man and machine-to-system conversations. This is revolutionizing  the entire workflow in construction - from observation and monitoring (of progress-labour-time) to closing information gaps and better collaboration to preventive maintenance to locating tools to reducing administrative tasks to smoothening project management. 
3D Printing (aka additive manufacturing or contour crafting) involves feeding pre-configurated data (such as blueprints and information) into an automated machine that churns out a precise physical output. From accelerated speed to waste reduction to cost trimming to innovation design, 3D has the potential to revolutionize the industry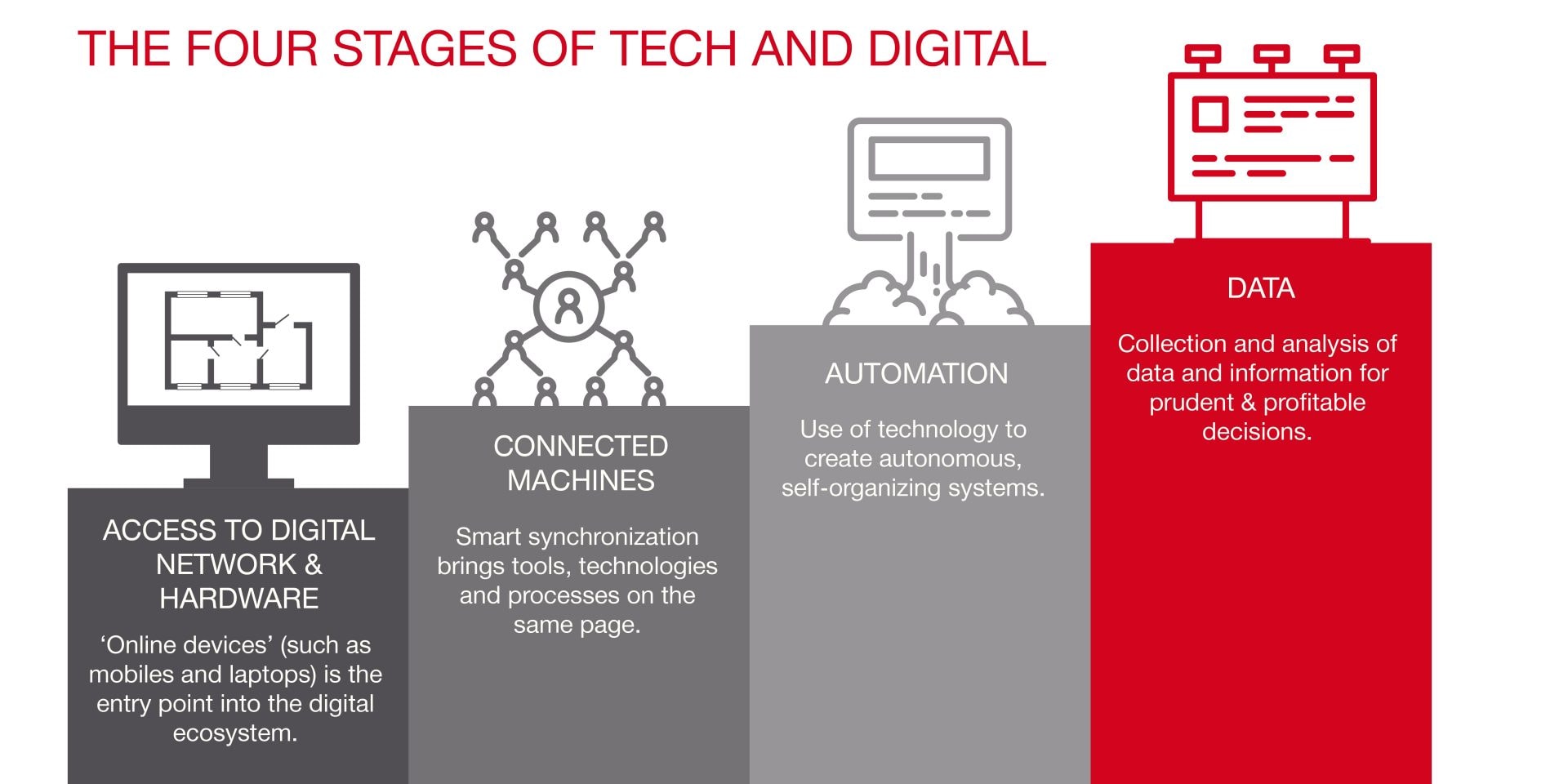 BEATING THE ODDS WITH HILTI
Hilti partners organizations along both the dimensions of digital and tech transformation : At the Business Model level - which augments products and services, and at the Operational level - which advances project development and delivery. 
In recent times, Hilti has made major investments and spearheaded profound innovations to digitize the construction industry and simplify workflows. Hilti engineers disruption in the following ways: 
DIGITAL DESIGN
Hilti BIM services help integrate MEP supports, optimize Passive Fire protection planning and drive accuracy by pin-pointing anchor points for Supports. Hilti's 3D PROFIS Design Software – a new addition to this digital ecosystem - helps designers and engineers speed up and simplify the designing of concrete-to-concrete and concrete-to-steel connections significantly. PROFIS also eliminates errors and promotes collaboration (via real-time cloud), while saving time on the jobsite.
Scattered jobsite locations, information gaps (between the office and the jobsite or between the design and the construction phase) and complex collaboration (amongst different trades in the field) have been stubborn challenges for the construction industry. IoT holds the promise of overcoming a host of them, along with their associated challenges. 
Hilti's IoT solutions equip physical things such as tools, concrete mixers, DGs (and so on) with sensors and connectivity, so that data can be automatically captured at site and fed to software that helps companies take productive process judgments and profitable business decisions.
"Hilti innovates digital ideas and solutions for a simple goal: To enable teams experience the joys of a truly productive day at work. While it's true that Hilti's digital products and eco-systems can accomplish much more at the jobsite, but what is equally important is that they can do so with much less. Less hands, less time, less overall cost."
Subhashis Basu, Director marketing at Hilti India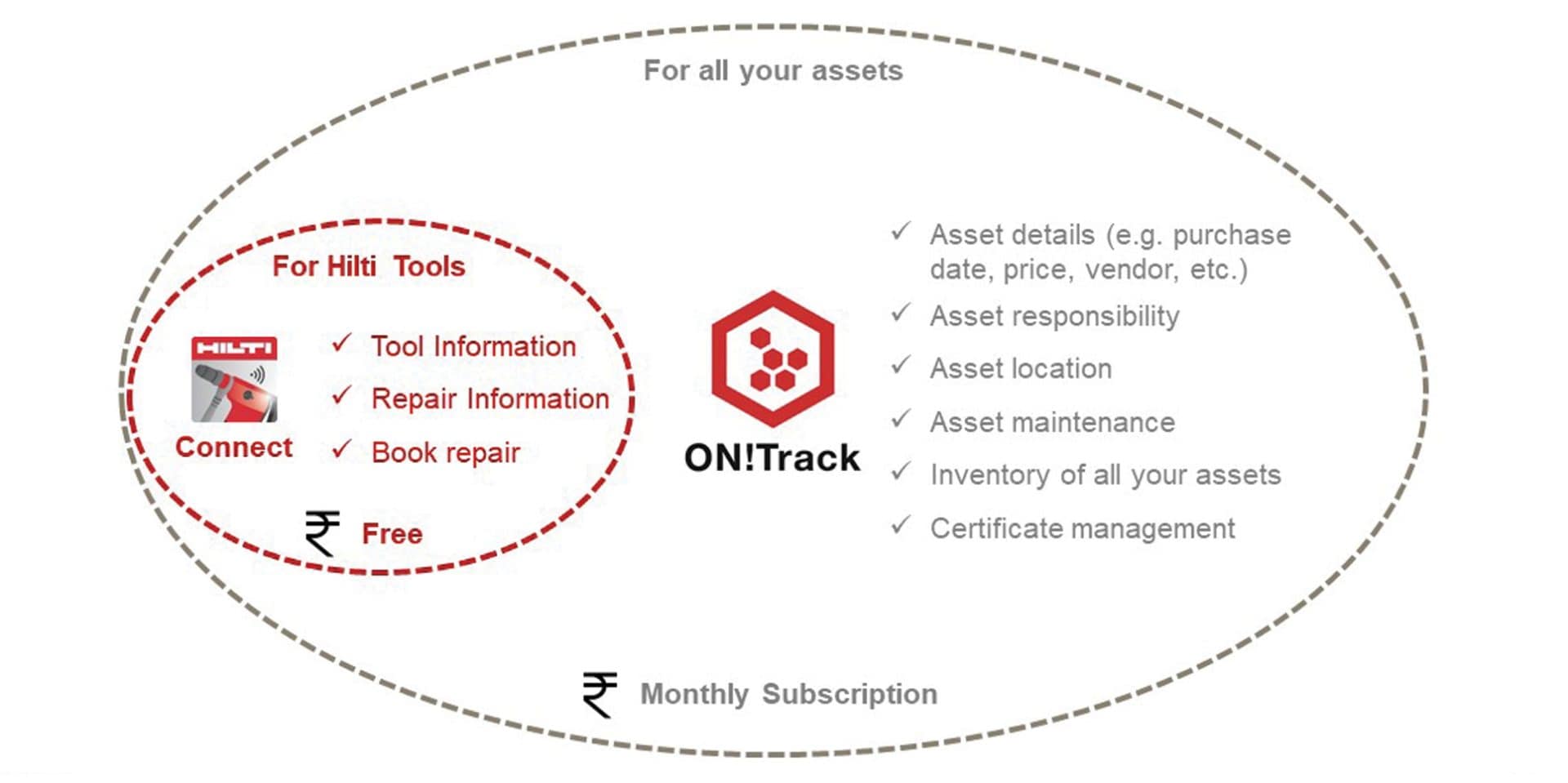 Individuals and teams spending harrowing hours on calls trying to locate assets will find much-needed relief in Hilti's ON!Track that puts one on top of all asset related information - such as location, responsibility, maintenance schedules and alerts - in real time. Bluetooth tags on assets, for instance, lets one track the GPS coordinates of an asset on one's fingertips anywhere and anytime.
'Let the tool work for you, instead of you working for the tool!' With Hilti Connect App - identifying tools, analysing repair costs and booking repair pickups (even on weekends) becomes easier than ever.
By improving machine performance, slashing downtimes and making for preventative maintenance, not only does IoT amp up productivity, but optimizes cost as well by driving down TCO.
Construction is entering the Smart Age – cautiously perhaps, but steadily. The transition is being triggered by a rising frustration with traditional techniques that are high on costs, hazards and energy consumption. There is also a growing demand for innovative outputs and experiences (by a new and aware generation of consumers) which calls for a certain level of sophistication in production. And of course, there has always been an urgency to pick up speed so that expensive delay penalties can be avoided. In response, thought leaders in the industry have been increasingly looking at smarter answers that go beyond just tools and factor-in the ecosystem holistically. The result has been a strategic coming together of tech and trends like AI (Artificial Intelligence), ML (Machine Learning), BIM (Building Information Modelling), IoT (Internet of Things), Bluetooth and Advanced Analytics -  resulting in smart construction platforms which allow tools, digital devices (like mobiles) and people to interact with each other on a common plane. The cumulative impact on productivity has been phenomenal – from remote operation and monitoring to reduction of waste to automated supply chains to increased worker safety to more efficient workflows to more profitable decisions.  
Its digital DNA has kept Hilti busy at the frontlines of this 'smart movement'. The company has been striving to partner the industry in getting more out of every minute spent – be it at the worksite or on a smart-screen. Hilti's tools now come with technology such as NFC (Near Field Communication) & Bluetooth sensors that can store & transmit operating information to the user's mobile, which helps in making better decisions around tool usage and utilization.
Hilti's direct fastening tool BX-3, for instance, shows the user the number of fastenings that have been done (as well as the number that can be done) based on available battery, tool errors & suggested troubleshooting. The DSTS 20CA – a concrete saw – on its part has an intelligent cutting system that manages the speed, direction and depth of cut automatically which ensures optimum saw performance as well as user safety.
All Hilti tools communicate data about purchase date, warranty dates, number of repairs done, cost incurred and operating videos, while letting one send repair pick-up requests right from the mobile - anywhere and anytime.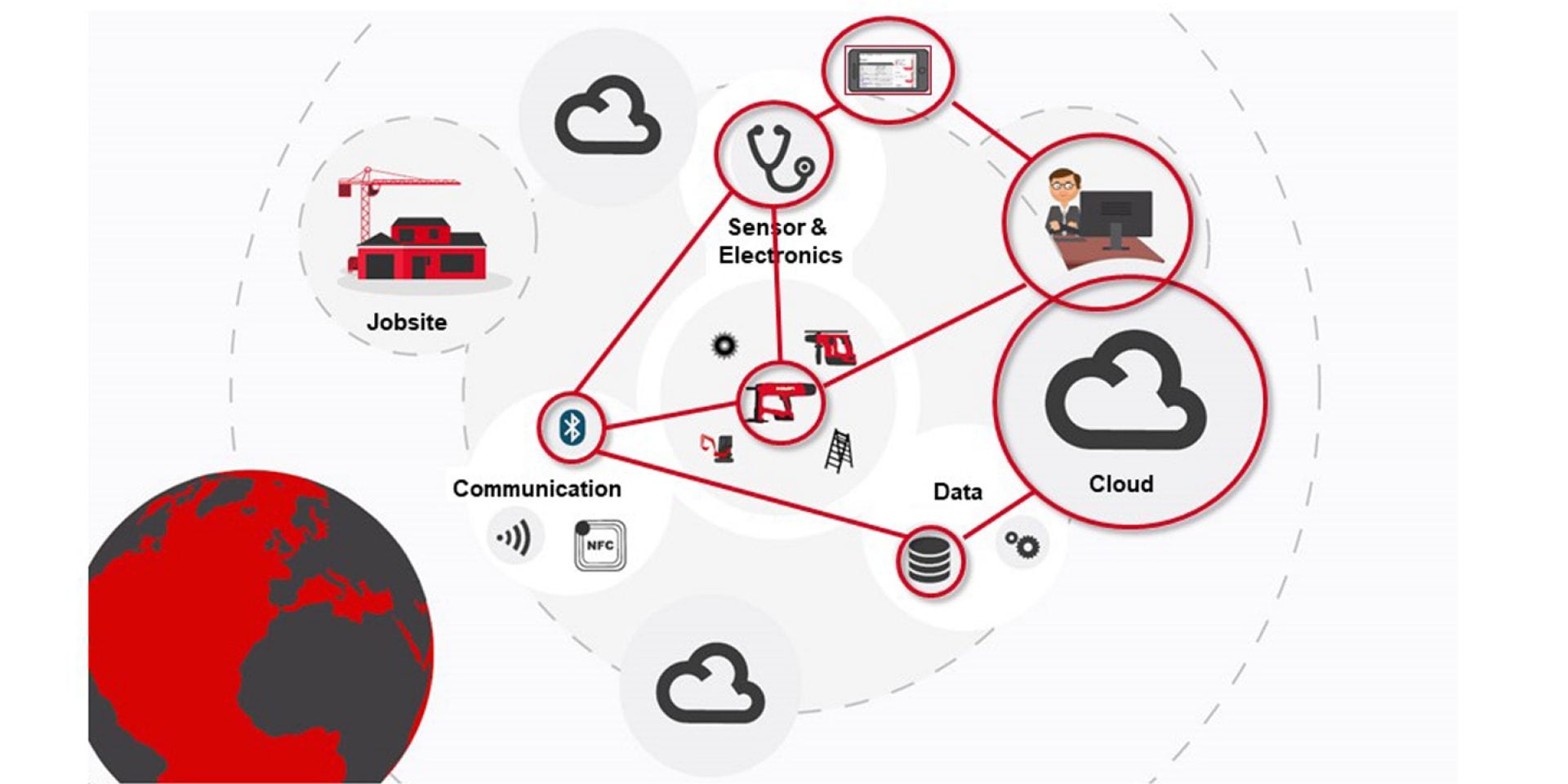 CO-CREATING THE NEXT 
Autonomous robots play a significant role in construction, specifically in production and quality control workflows by enabling automation of routine and tedious tasks, reducing workload and improving safety. In this space, SPOT is a front-running tech platform that is particularly well-suited for tasks like surveying since it provides a consistent output uninterruptedly over long hours even in dynamic and hazardous conditions. Hilti has collaborated with Boston Dynamics (a SPOT leader) to create autonomous and terrain-agnostic Spot Robots that multiply efficiency and boost productivity manifold.
One of the most critical and time-consuming phases in the construction process is waiting on the poured concrete to develop strength, also known as the curing phase. Recent advances in technology – where sensors embedded into the concrete send back real-time data on curing status like strength, temperature and relative humidity) and is easily accessible on mobile - has turned the process highly accurate and speedy. Hilti has collaborated with Concrete Sensors (the industry's de-facto gold standard in the domain) to enhance judgment and accelerate construction schedules through better understanding of the concrete curing process. 
e-B2B
Another area that has been a consistent source of frustration for teams is tool purchase, procurement and paperwork. Finding and verifying the 'right supplier' and 'right price' (that delivers best value as opposed to a 'cheaper' product that brings hidden costs) - without compromising on quality - from multiple market sources (including the unorganized and gray ones), placing orders on time and matching invoices have all traditionally been productivity sappers. Hilti's eB2B fixes this challenge by integrating all the elements of the chain on an automated system that is simple, seamless and fast. By cutting down duplication of effort, doing away with the need to haggle everytime (since 'right pricing' is implemented at every touch-point), reducing paperwork (both time and cost intensive) and quickening loops (for instance, orders for jobsite staples and essentials are raised automatically when stocks fall below a stipulated level), eB2B delivers a perceptible and consistent lift to productivity.
DIGITAL ACCOUNT MANAGER 
The NEW NORMAL will demand every player in construction to find an online partner who understands their need for speed, control and personalization to optimize costs and stay competitive.
From their remote locations, Hilti's highly initiated Digital Account Managers are addressing this by driving familiarization and adoption of Hilti Online (HOL) - the company's website that redefines 'customer connect' at every stage of the online journey : Research to purchase to tracking to delivery.
Features like quick ordering (& re-ordering), prompt processing, access to product information, customizable lists, transaction history and transparent, updated pricing (that does away with the need to negotiate) all go to save precious effort, time and cost for Hilti's partners - while delivering an experience 81% trust for value, and 85% keep coming back to. 
INSTALLING A DIGITAL CULTURE, GROUND UP
Onto the big question : How do you actually bell the big cat? A study by the mckinsey group advises a three pronged plan when it comes to technological transformation for teams in the construction sector.
Fit to process, not people
People are far more open to disruption when tech and digital solutions are matched to their actual pain-points (which directly benefit them by easing their task experiences) than when they are forced by top-down leadership. Organizations can drive this by first identifying operational and behavioural changes required to improve productivity across the full workflow – and then empowering people with the technology, authority and training to enable those changes.
Go organization-wide, not piecemeal
Implementation of Digital across a fragmented & silo-fied organizational matrix may appear daunting but can deliver rich dividends. Technologies that have cross-functional and cross-departmental Use-Cases can magnify productivity by plugging inter-departmental efficiency leakages and unleashing the full might of Big Data Analytics via system integration.
Re-train and up-skill
Real transformation can only happen when new technologies and digital systems are accompanied by strategic initiation and training - both at a mindset and at a skillset level.
Surviving, competing and evolving in the NEW NORMAL won't be so much about doing new things, as it will be about doing old things in new ways. Count on HILTI to keep partnering you like we have been doing in the OLD NORMAL. Join our webinars.