BREAK FREE FROM THE CORDS AND ENTER THE FUTURE OF JOBSITES
The power and agility you need, without the hassles and hazards of cords
Cordless tools are now a must-have on jobsites, with high-performance models leading the growth in power tool sales. Battery technology improvements have made it possible for cordless tools to match the productivity and performance of corded and gas-powered counterparts.
WHY CORDLESS?
We understand that switching to cordless tools can be daunting with floating myths around cost, short battery life, long charge time, and performance. That's why we offer end-to-end solutions that support your entire application chain and business cycle. And with our 2-year wear and tear coverage on cordless tools, batteries, and chargers, you can have peace of mind knowing that you're making a smart investment.
So why wait? Unleash your productivity with Hilti's cordless tools today.
Less Power than Corded Tools
It has been tested and proven that cordless tools deliver the same power output as corded tools (in a comparable class & category).
Electronics and overload protection mean that your tool is delivering consistent power output, and also has lesser burn-outs. 
These together keep your tool running even in extreme jobsite conditions.
Low Battery Life
HILTI's batteries are built to naturally last long.  Not just that - all our 22V cordless tools come with interchangeable batteries and different power classes. Finally, we replace your battery FREE (in the unlikely event of malfunction) for the first 2 years. The result? You never, never, run out of power on the worksite. 
High Service Cost
Hilti cordless tools are robust and designed for regular usage and .  Overload protection, and brushless motors in most tools lead to longer life. Additionally,  2 year wear and tear coverage ensures you do not spend anything for repair and maintenance for 2 years from the date of invoicing. We also apply a repair cap in the 3rd year,lowering your total cost of ownership.
Reduced Productivity due to Long Charging Time
We have a range of batteries with different charging times. 
The Ultimate B22/8.0 battery charges within 50 minutes using Hilti fast charging technology.
BENEFITS OF GOING CORDLESS WITH HILTI
Optimized tool park
One charger works for all your 22V and 36V batteries. For 12V, just add an adapter. Convenient and cost-effective.
Excellent performance
Corded-level performance meets the full flexibility and advantages of cordless. Plus a 9.0A fast charger.
Enhanced jobsite safety
Reduce jobsite hazards by going cordless and make your jobsite a safer place to work.
Greater productivity
With no time lost to searching for electrical outlets, you accomplish more each day.
Lowest cost of ownership
Our best-in-class tool repair service with free battery replacement – plus quick, hassle-free turnaround.
On-top services
Boost your business with our fleet management and optimized tool park services, and Make It Fit selector.
IMPROVE WORKFLOW PRODUCTIVITY
What is workflow productivity?
End-to-end solutions for faster workflows
Staying productive isn't always easy. Unplanned costs, inefficient processes and a shortage of skilled labor can all lead to project delays. Outdated methods and equipment could be holding you back from meeting project deadlines and taking on more work. 
Hilti provides you assistance to speed up your construction workflows, reducing downtime and avoiding rework with high-performing tools. With Hilti cordless, you can see the benefits of using our cutting-edge tools and how it fits with your trade applications.
Speed up workflow productivity with cordless
No matter the application, we have the solution to help improve your workflow
REBAR IN BUILDING CONSTRUCTION
Reduce time spent on wall connections, slabs, beams, foundations and more in a typical building project
BASEPLATE FOR STEEL STRUCTURES
Increase speed of installation for steel-to-concrete connections such as beams or columns and while ensuring safety
STEEL STRUCTURE FABRICATION
Innovative solutions for cutting, grinding, polishing or preparing steel in a fabrication workshop to help you reduce cost on small tools 
OVERHEAD SUPPORT
Increase productivity of overhead applications for any mechanical or electrical support with our full end to end solution
LIGHT DUTY ELECTRICAL DISTRIBUTION
Increase speed and reduce cost with end to end savings at every step of the electrical application
REBAR DOWELING FOR CIVIL ENGINEERING
Reduce cost and increase speed on applications such as structural joints, splices and overlays in bridge, road or tunnel projects
Peripherals to get the job done
Batteries made for the extremes
Our lightweight lithium-ion batteries withstand the extreme conditions common to jobsites – from shock to below-zero temperatures. Protected by a fiberglass reinforced plastic case, quick charging and long lasting, they help ensure your tools are ready to work whenever you need them.
A charger for every need
Decrease your downtime and increase your productivity with chargers that add power to a battery in as little as 35 minutes. Whether you want a fast charger, a multi-bay charger, or a compact model, our selection helps your crew make the most out of each workday.
Hilti and Glass Wall have been inseparable partners for the past 20 years. With Several concerning manual processes, Hilti's cordless tools gave us a big advantage. Several battery-operated tools and solutions like cordless drill driver with adjustable torque and riveting tool immensely increased mobility and easy tracking along with Fleet Management to further reduce downtime.
ESHAN HEMRAJANI
Director Glass Wall Systems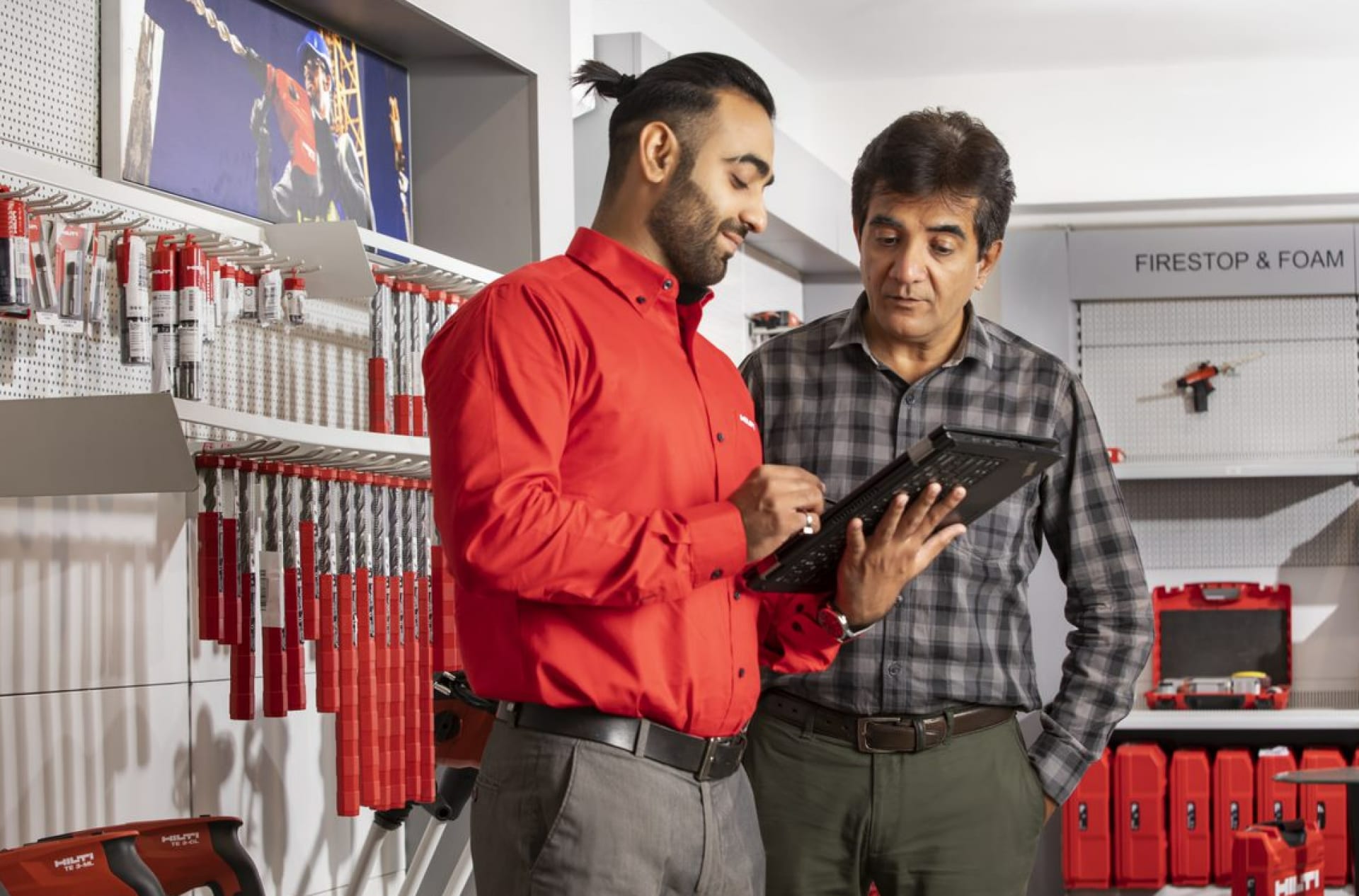 Read our whitepaper to know more about equipment as a service
CONTACT US TO SEE THE DIFFERENCE